The fourth name on the Brooweena bridge is that of Geo. R. Bates.
George Richmond Bates
was born at Charleville to George and Ellen Maria Bates of Boompa, Queensland. He was a stockman and enlisted on 15 August 1916 at Maryborough, aged 20. Both parents had died and his next of kin was his sister Vera (he had three sisters altogether). George Bates arrived in France in January 1918 and died of wounds on 16 April 1918. He is buried at Vignacourt British Cemetery, France.
I think this is one one of the most poignant letters, from his sister Vera.
"Dear Sir, On the 25

th

of last month I received information by telegram from The Military Headquarters Brisbane that my brother No 632 Pte George Richmond Bates had 'died' on the 16

th

April … I have waited patiently for further news, but none has come. Will you kindly do your best to obtain all information about his death. Is there any probability of its being a mistake. Kindly let me know as soon as you can to relieve my anxiety as the above is my only brother…
But sadly there was no mistake, and his effects eventually turned up at home.
The fifth name is David Boldery.
David William Boldery
was born in Maryborough to Thomas and Letitia Boldery. His occuaption was given as a teamster and his address as Aramara on Gayndah Line. His widowed mother Letitia was his next of kin. David Boldery enlisted on 20 October 1916, aged 19 years 8 months. He arrived in France in June 1917 and was killed in action on 28 August 1917 in Belgium, aged 20. His name is on the Ypres (Menin Gate) Memorial.
His effects included "Disc, Letters, Photos, Note book" and his mother wrote to ask if there was any chance of receiving his ring, razor or fountain pen "which he had with him on the battle field"; she also wrote asking to be sent a pamphlet on Graves of the fallen.
"To Officer in Charge, Base Records,
I beg to acknowledge the parcel, but am writing to inquire if there was any possible chance of me receiving (Late) Pte D. Boldery's ring or razor or fountain pen which he had with him on the battle field…
(Mrs) Letitia Smith (nee Boldery)"
David Boldery's name also appears on the North Aramara War Memorial (north east of Brooweena), built in 1919 by George Greatorex Nichol in memory of his son Edward and nephew David who both died in the war. It was put up at the school which both boys went to (Bowling Green Provisional School) but when that school closed, it moved to North Aramara School. That school also closed in 1948 but the memorial still stands in the school grounds, together with a plaque put there in the 1980s by descendants of George Nichol.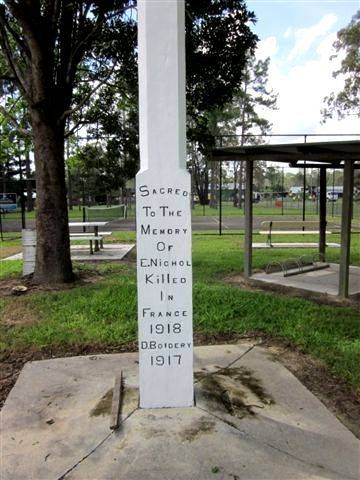 North Aramara War Memorial (

Photographs supplied by John Huth)
The sixth name is E.D.Nichol.
Edward Nichol
was born at Maryborough to George Gratorex and Frances Margaret Nichol of Aramara, Queensland. He was also a teamster and enlisted at Maryborough on 26 October 1916. Edward Nichol was killed in action on 9 August 1918 aged 25. He is buried at Heath Cemetery, Harbonnieres, France. His headstone reads: "Sacred to memory" (chosen by "Mrs F M Nichol, Aramara, Gayndah Line Q'ld").