This is Kaiparoro war memorial bridge. You might have driven past it on SH 2, just north of Masterton, past Pukaha Mt Bruce. You wouldn't have driven over it, because the road was diverted some years ago.
Photo: Sue Pearce
You can read more about the bridge
here
on Te ara. The entry says about the bridge says that it was "designed and the construction supervised by Alfred Falkner, whose son Victor and nephew Donald Pallant were among those remembered. The memorial bridge was built of stone from the nearby Makākahi River, and opened in 1922."
It's a very special bridge to the local community and the
Friends of ANZAC Bridge
have done a great job of restoring and caring for it. In fact, this year is the 10th anniversary of their formation to save "what was once a 'neglected and forgotten' structure in the middle of a cow paddock." You can read more about their work
here
.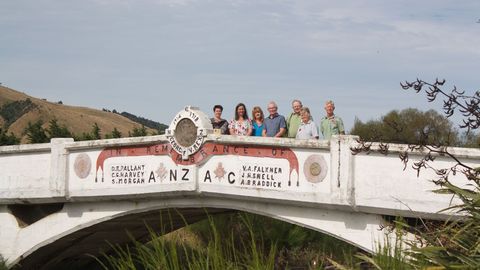 Friends of ANZAC Bridge Committee 2016. PHOTO/EVIE DEWES
I knew about the bridge already (we included a photo of it in the section on war memorials in my book on the history of Anzac Day), and I loved the idea of an Anzac project based around it.
But what could that project be?
Well, I thought - how about finding another bridge community to link up to, either here in New Zealand or overseas. That would be easy, surely? There must be lots of World War One memorial bridges.
But it turned out that there aren't so many at all, and that makes the Kaiparoro bridge even more special.